Bloggers, Babes, and Bubbles! - St. Johns Town Center VIP Influencer Event
Jacksonville's Premier Shopping Destination, St. Johns Town Center, Hosts Blogger Event to Discuss Fall Fashion and Fabulous Food
Babes, Where Do I Start?
If you know me (or follow my IG, IG stories, or peep the blog on occasion), you know I have a lot of love for a lot of things in life but there are three recurring items I discuss with a passion.
Bloggers. Babes. Bubbles.
Fortunately for me, I had the pleasure of attending the Inaugural St. Johns Town Center Influencer Event and those MALL CHAMPS had all three in full force at this event. AND trust me...it did not disappoint. The night was an A-list, red carpet, celebrity-worthy event that far surpassed any expectations anyone walked in with for the evening. Today, on #TheBorrowedBlog I'm sharing my recap of the event so that you can add a little more backstory to all the IG videos you saw that night AND have a little more insight about where to shop this holiday season when you visit the St. Johns Town Center.
In conjunction with this post, I'm also launching a new feature on the blog called #SMACKTALK. It will be the first post in the #SMACKTALK series on #TheBorrowedBlog, but it is certainly worth a read! In it, I'll be dishing a little sweet #SMACKTALK about all the bloggers in attendance so that you may grasp the full depths of MY love for my fellow blogging babes! (And also give them a follow, if you don't already!) To read that FUN GEM and see what SMACK I talked you'll have to check back tomorrow. I'll link you from this post, but also link you from the homepage and IG bio.
The Rundown
If you've ever shopped at the St. Johns Town Center you are aware that there are tons of your favorite retailers in one location, but you do have to take a few steps to get from one to the next. (Hey, I don't mind walking, I like to incorporate wine and apps into my shopping while I'm there so I need the steps to hit that daily 10k step count and make me feel less guilty about said wine and apps.) So I was incredibly pumped to see some of my favorites signed on to participate in this event and be able to mix, mingle and shop with all of them under one roof. (In this case, a gorgeous white tent.)
The Retailers
Dillard's
Dillard's has been one of my favorite mall retailers ever since I was a gangly, still too tall for my own good child. This location at the St. Johns Town Center is by far one of the best around. It's so top notch in fact that once I was in high school and could drive, my Mom and I would drive two hours to Jacksonville just to shop at this Dillard's. TRUE STORY.
At this event, Dillard's came to play! They brought all of their latest fall fashions and left me seriously wishing money grew on trees OR that I had a clone who had time to wear all the pieces they showed. They hit all the right fall marks. Velvet, Red, Pleats, Booties. They also showcased all the brands you've come to know and love at Dillard's. Giani Bini. Steve Madden. Antonio Melani. It was Fall Fashion GOLD.
From a personal standpoint, I LOVE the staff and the atmosphere of the Dillard's at the St. Johns Town Center. They believe in community and giving back to local non-profits. Where so many other major department stores are falling short these days, this store still makes an active effort to be involved in the local community by giving back in more ways than you can imagine. I've had the pleasure of working with them in the past for a non-profit near and dear to my heart and I couldn't have asked for a better experience. AND if you've ever met their store manager you know he's a class act so you leave the floor loving your fashion and having all the FEELS.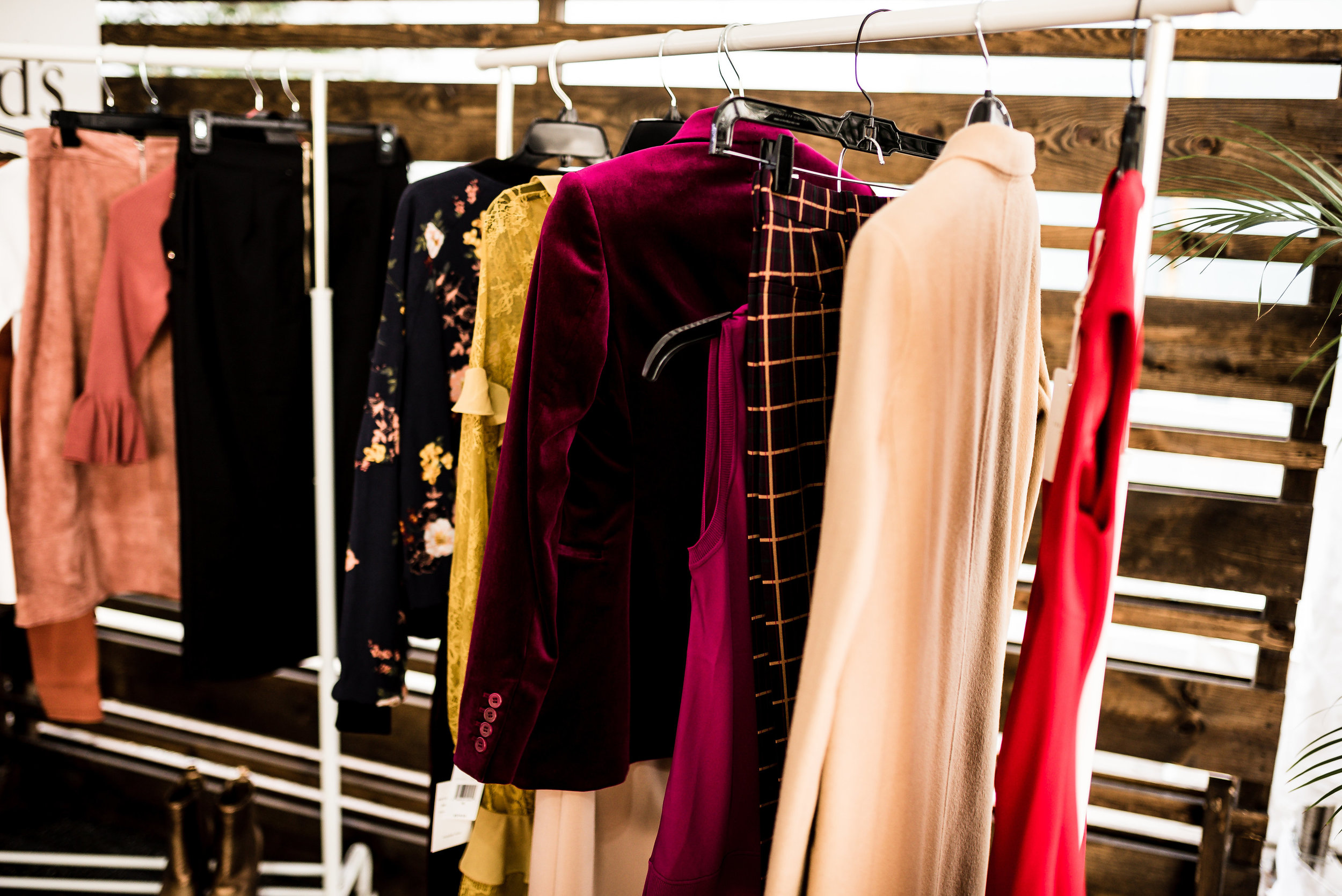 Apple
Ummm, hi! It's a room full of bloggers, of course, Apple was there. There were more selfies taken in that room that night than most of Jacksonville this year. Apple was there to cover all of our blogging and photo tech needs. They also came in handy when I had to ask for assistance since my BRAND NEW phone decided it just didn't need to work that night. AT. ALL. After they assisted me with my drama I learned more about these awesome LuMee cases that any selfie junkie needs in their arsenal. (I mean most of my selfies are LIT because it's the only way I can take them but this one also lights my face and fights my shadows from the wine stache. LOL) Seriously, who doesn't want a well-lit selfie? AND although we didn't see it in its full glory that night you have to check out their new space at the Town Center. It is big and beautiful!
Omega
I'll admit, I'm not an Omega regular. If I were you'd know. ;-) TRUST ME. They have every beautiful piece of wrist bling for both him and her that you can imagine. As someone who doesn't know as much about that arena (for both men or women) I found their set up and presentation to be the most informational. I learned that they are the watch of James Bond and if you shop in-store and so desire they have my husband's favorite scotch for pours. (Yes, please!) If you are looking for high quality, long lasting holiday gifts for both the men and women in your life this season, make sure to stop by Omega. (I know I'm going to try and convince my hubby that is what I need. No pressure, but leave a comment below if you agree!! Let's get him in the store!!! Mama's wrist is looking naked. ;-)
Brooks Brothers
With suiting being such a staple of Fall fashion this season, it was great to have Brooks Brothers there bringing the polished, professional and suiting trends of my dreams to life. I appreciate the quality and beauty of Brooks Brothers fashion for all of the babes who work a 9 to 5 in a slightly more professional setting. What I love most about them is that I can take my husband in the store for at least 57 seconds before I lose his attention and in that 57 seconds they manage to make sure he too, is always dressed his best.
The Food & Bubbles
Capital Grille
HOLY AMAZING. It was delicious. Over the top. Outstanding. THE END. I love food, but don't always take great pictures of it nor do I do it substantial justice when talking about it so to get the in-depth and delicious coverage this meal deserves you must check out the review that Trice from High Heels and Good Meals wrote HERE. (And give her a follow. She is the best...more on her in my #SmackTalk bonus segment.)
As far as bubbles are concerned, just know there was plenty and it was rosé All Day, babes.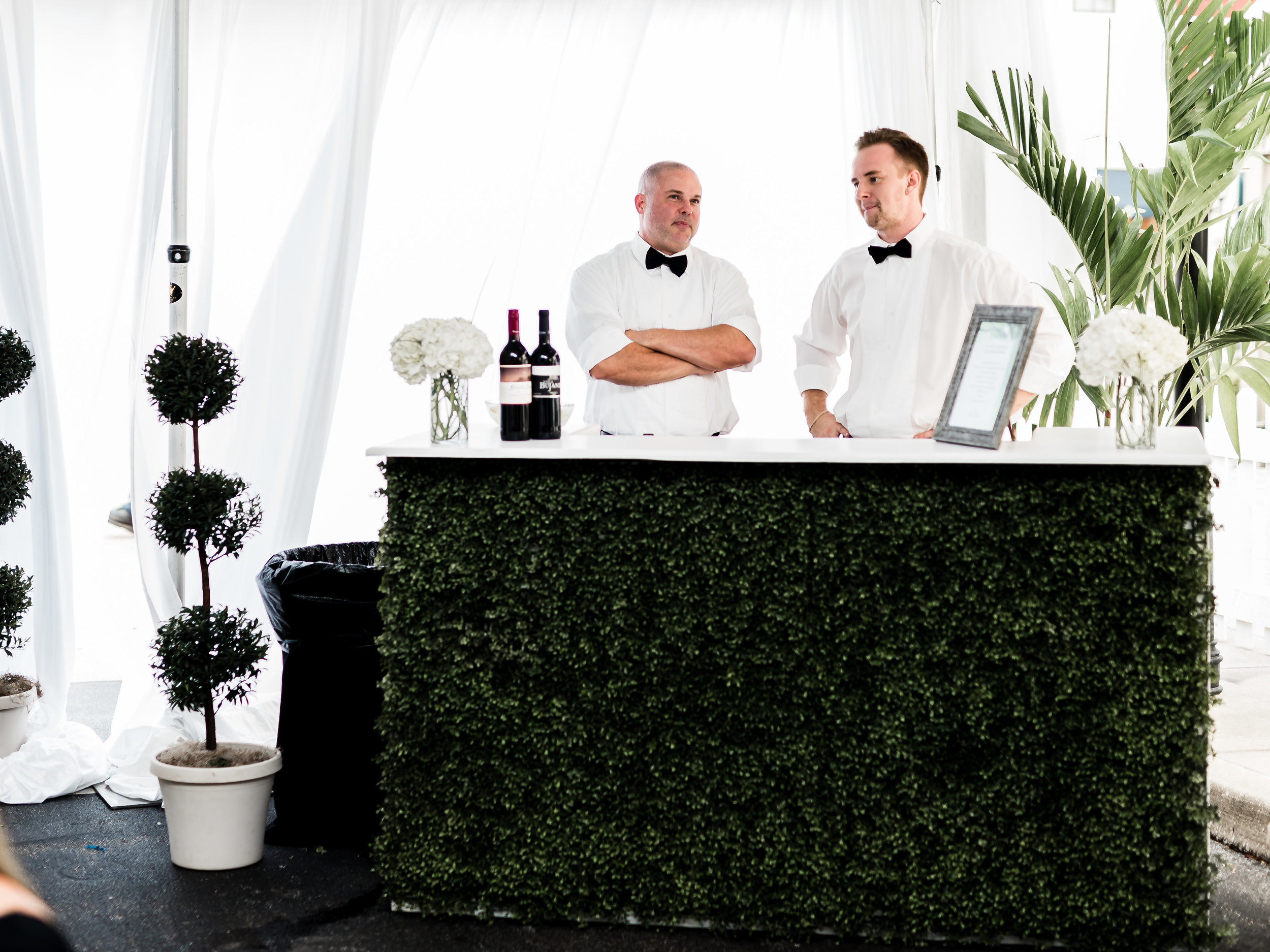 The Agenda
If you're wondering what goes down at these events, you can stop. It's probably exactly what you're thinking. We sip bubbles. We chat. We discuss fashion. We take pictures. Except on this night, all of that was even more outstanding than anything we've experienced in the past. We started with a cocktail hour under a phenomenally decorated tent. Experienced an amazing fashion show emceed by my girl Aubrey Alley of Hello Alley. Ate an unbelievably delicious dinner. Ended the night with a little dance sesh with the band. AND now have the pleasure of sharing our night with you! If you're looking for the Guest List, you'll have to link over to my new series, #SMACKTALK. Stay tuned!
See below for some amazing photographs of the evening from Aubrey's Photographer, Viktoriya Chuprov. I've linked her website to the photos in this post, but you can also find her on IG. She does amazing work and if you need someone to make you look like Heidi Klum in your photos, hit her up.
Simon Says Go Shopping!
If you don't know it by now, the St. Johns Town Center is a Simon Mall. No one does local shopping better than Simon properties. As someone in marketing/pr/branding for a 9 to 5 job, I can appreciate the consistency in branding, service, and experience that Simon properties have. AND BEFORE ANYONE FLIPS OUT BECAUSE THEY ARE A LARGE COMPANY, DO YOUR RESEARCH. They make an effort to be active and involved in every community where they own properties and they give back through their Simon Youth Foundation. Not everything big is bad. (Just like me! ;-) )
Simon Said
FOR you fellow bloggers, their social team is always on top of their game. If you post your fabulous IG photos of items you've picked up while shopping with Simon using #FoundatSimon they will often regram and repost your photos to their site and social channels. (Check them out now and you'll see my face all over that snitch.) HERE. I also enjoy reading their Simon Said blog to see other bloggers and events around the country. Read it here.
#OOTN
If you're wondering about my style details, click below to shop. I picked up my entire ensemble from the St. Johns Town Center. They are my go-to destination for holiday style needs, so you too can LOOK LIKE A FIREBALL in a feisty red jumpsuit.
A few of these items are what I like to call "vintage" aka I've owned them for a hot minute now and they are no longer available, but I've linked similar items that are available for purchase.
Red Jumpsuit - Here | Nordstrom at St. Johns Town Center (Exact one no longer available, but linked a stellar similar option OR Call Nordstrom Jax and ask for Jordan and she can TEXT SHOP for you with their NEXT App. She knows what's up! She'll pull the best items in the store and have your room set up and ready to go when you arrive.)
Jacket - Here | Anthropologie from the St. Johns Town Center (When you visit, ask for Maya. She will make sure to style you right.)
Shoes - Here | Payless at the St. Johns Town Center (Exact one no longer available, but linked a stellar similar option)
Clutch - Here| Dillard's at the St. Johns Town Center (Exact one and it is on a MAJOR SALE)
Cuff - Here | Nordstrom at the St. Johns Town Center (Exact one no longer available, but linked a stellar similar option)
FULL BEAT MAKEUP from Sephora at the St. Johns Town Center (Ask for Tanner for facials and Jonathan for makeup...they will not steer you wrong! I've linked the SJTC Sephora IG and Jonathan's IG pages so you can see their work.)
The Familiar Faces Behind the Event
It may be a foreign concept to you because few folks actually visit the mall management office at the St. Johns Town Center but if you haven't you're missing out on some stellar people.
The Marketing Maniacs
Lindsey, pictured above, (who in full disclosure is my BFF) runs their marketing and business development efforts. She is a BOSS. In every sense of the word. And I'm not just saying that because we are BFF'S. Sister has awards from Simon (and rightfully so). She's the one always working her butt off to ensure your shopping experience is fantastic and if you tell me anything other than "MY SHOPPING TRIP WAS AMAZING AND FABULOUS AND I LIVE FOR SHOPPING THERE" then YOU'RE a LYING PIRATE HOOKER. Just kidding! If you don't have an absolutely fabulous experience shopping, let her know. She and her team will handle it. Olivia Pope style. Minus the sex scandal. But definitely still keep the wine and fashion.

Speaking of her team, Lindsey has a mini hustling hard version of herself, named Kayla. Kayla was at the event running around all night making sure all of the blogger and media reps had everything needed and had nothing but an amazing night. (And if you think you didn't meet Kayla you at least saw her. I asked her several times to help snap some group shots so if you are in one of my photos, chances are you smiled for Kayla that night. THANKS, lady!) If you noticed, nothing went wrong that night and it's because of Kayla's hard work. She has been planning this event for quite some time and deserves a fancy glass of wine for her efforts. (Lindsey, help her out with the wine. ;-) )

The Operations Overlords
The half of the team you don't often hear or see is the Operations gang! Val and Dave were in attendance that evening, but you may not have talked to them. They handle all the little things that ensure we never leave the property or an event like this and think to ourselves, "man that stunk." HAH! Typically if you attend any of the fabulous events hosted at the St. Johns Town Center, you've passed them working hard and didn't even realize it.
Show Them All the Love
Jacksonville has come so far in the last year when it comes to influencer marketing. A lot of that credit goes to the progressive thinking of the business owners and marketing executives at these businesses, but none are more supportive than Simon Properties and the St. Johns Town Center. This event was TOP NOTCH. Second to none. Most definitely HASHTAG #LivingmyBestLife aka it doesn't get much fancier than the red carpet they rolled out.
In my opinion, it was perfect timing for this event. (Not too hot, not too cold...all we needed was a light jacket.) Wait, did you think you'd get out of a post without one lame movie joke? Think again!
Kidding! I'm obviously thinking holiday gift-giving season. As we approach the holiday season, it is your civic (and blogger) duty to go shop local. I know we all love online shopping, but there is something SO special and wonderful about the holiday decorations and festive spirit that you can only find by shopping locally during the holidays.

So get out and shop.
Post to your IG.
Post to your stories.
Spread the local love.
XOXO,
Stephanie
P.S. - Keep checking back this week for more information on their big Holiday event this weekend. It is certainly something you don't want to miss. I AM FLYING BACK TO FLORIDA FOR IT THAT IS HOW MUCH I LOVE IT. GET ON MY LEVEL. For more information, click here.