Top Picks: Sexy One Piece Suits for Tall Women
Because you can't Rent Everything in Life...
Swimsuits are One of those Things
Well, technically I'm sure you could borrow a swim suit from one of your best babes. And that's totally fine. We've all done it....(I mean not me because when you've been 6 ft. tall since 6th grade you can't share with anyone except Maria Sharapova and I don't know her personally. AND writing a fan letter asking to wear the small piece of loin cloth magazines call swimsuits these days would just be SUPER weird.)
So in honor of my trip last year to Mexico, I'm sharing some of my favorite sites and picks for one piece swimsuits for tall and really ALL babes. (Not so tall babes can wear these too but listen...when I tell you being tall and wearing a one piece is rough, trust me, it's rough stuff.) {Read that like Penny from the tv show Happy Endings and if you never saw that show you're living life wrong. Get on Hulu and start watching today.}
You don't want to know the experiences my lady business has been forced to endure attempting to find a suit that fits. And if you're thinking about Borat now...that is not far off from some of the trauma that I could describe in creepy detail for you.)
Haha...you thought I'd post a picture of a GIF in that weird singlet he wore, didn't you? Of course I wanted to but this is a moderately family friendly site and that image is just disturbing. You can't unsee it. If you don't know what I'm talking about, just google it.
One Upping You
Why am I talking one pieces? Well, for starters they are very "in" and trendy right now. They have been "in" for a hot minute so there are far more stylish options available this season than there may have been in years past. And for my personal favorite reason...my summer bod is never going to be ready and I've given up trying. Now that winter carb loading bod is always in action and ready to roll (literally and figuratively) but that bod isn't meant for a two piece. It's really not meant for a one piece either...it's more or less meant for year round caftan season but swimming or sunbathing in a caftan is a little insane. So until wine and queso is calorie free, it's a one piece for me.
Coverage is Key
The amazing thing about technology and designers now is that one pieces can really do wonders to slim and lift when needed. It can give your girls a lift, keep your tummy tight, and your thighs right. In the case of swimsuits, less is not always more.
My Picks for the Best One Piece Suits for Tall Women
if you scroll IG at all, and I'm guessing you do if you're here, you know swimsuits can be outrageously priced for the amount of fabric and wears you'll actually get out of them. This pale girl doesn't play that game. Even though we live near the beach my tree stumps for thighs will only throw on a bathing suit every so often and I'm not trying to spend $400 on said swim suit. (GTF outta here with that mess. Whew.)
POST UPDATED on April 29th - You Can Now Shop my Posts with LKT.It - WOO WOO!

Shop Cover Ups and Outwear for Cooler Beach/Pool Nights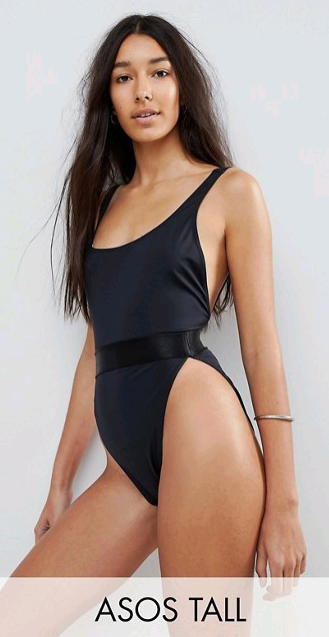 Plenty Of Options for One Pieces Suits for Tall Women
There are so many options lately for women who are not your average swimsuit size, these days the possibilities are endless. Some of my favorite other sites to shop for swimwear are:
Swimsuits for All | Here
Long Tall Sally | Here
Wear Lively | Here
Don't forget to use code AMB-THEBORROWEDBABES2 to save $10 on your Lively swimwear purchase.
What I'm Wearing
Black Plunge Neck Swim Suit from Forever 21 - SOLD OUT from Last Year, but similar | Here
Brixton Joanna Hat - Color Honey - Size Medium | Here
Sunnies from Shop Red Dress | Here
What are you favorite budget friendly swim suit shopping destinations to find the best one piece suits for tall women? Leave a comment below.
XOXO,
Steph